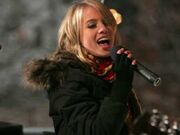 "
All I Want Is You
" is the thirteenth episode of the 
Third Season
  of 
Instant St
ar
. It premiered on Canada on September 2, 2007, and in US on May 18, 2007
After finding out Darius and Portia's secret, the people of G Major aren't too happy... It could be the end for Jude's record label, but that really isn't her biggest worry. It turns out she isn't the owner of her own music, and even bigger than that: both Jamie and Tommy want her affections. Both of them have an offer Jude can't refuse, but which one will she accept?
Guest Star
Edit
Jude: (voiceover) Making choices has never been my strong suit . . .
Sadie: Acapulco has incredible Ecolodges.
Jude: Yeah, and Cancun has drunk girls losing their bikini tops. You're so lucky you and Kwest are going on vacation together.
Sadie: Why, you craving a little beach time with Jamie or Tommy?
Jude: Nice try but I'm not playing. (voiceover) Only because I'm too terrified to pick.
Sadie: Oh, Jamie certainly has transformed from lost puppy dog to full-on stallion.
Jude: (voiceover) Oh, I've noticed . . . A stallion's a horse.
Sadie: . . Then there's Tommy: those lips, those eyes. Bad boy will always be a contender
Jude: (voiceover) It's the always that worries me. Tommy-a-do, Tommy-ah-do, I mean you know, Jude's neglected her third album for too long. Romance is just going to have to wait till G Major is finished with me.
They walk into G Major where everything is being taken away by the cops
Jude: Hey, what's going on here?
Man: I'm sorry ladies, until further notice G Major is closed for business.
Jude: (voice over) Only thing worse than not being able to make a decision . . .
Sadie: Looks pretty finished to me
Jude: (voiceover) . . . is having the big ones made for you . . .
"All I Want Is You" is a song by U2.
In this episode it is revealed that Spiederman lives with his uncle because of his parents brutal custody battle.
Snippets of the featured song,"Where Does It Hurt", can be heard in different episodes throughout the season.
Jude's rooftop performance is an homage to the Beatles' final performance which took place atop of their Apple Headquarters.
In the States on The-N, this episode aired on May 18, 2007.
Featured song: "Where Does It Hurt" by Alexz Johnson.
Ad blocker interference detected!
Wikia is a free-to-use site that makes money from advertising. We have a modified experience for viewers using ad blockers

Wikia is not accessible if you've made further modifications. Remove the custom ad blocker rule(s) and the page will load as expected.