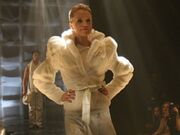 "
Celebrity Skin
" is the eleventh episode of the 
Third Season
  of 
Instant Star
. It premiered on Canada on August 28, 2007, and in US on April 27, 2007.
Things go bad for Jude when she wears a vest made of real animal fur. Animal rights activists protest against her so she tries to fix it but instead accidentally insults meat eaters. With all of this drama going on, everyone wants to see Jude hurt. Everyone at G Major has to work hard to protect her or else something terrible might happen
Guest Star
Edit
Jude: (voiceover) Broken-hearted? Me? Please, broken heart does not go with these boots. Ok, so maybe it's not as easy as it looks but sometimes you gotta fake it till you make it. After all, they say living well is the best revenge. And looking hot in front of your ex-boyfriend feels pretty good too. Looking like I slaughtered a baby seal . . . beyond horrific.
"Celebrity Skin" is a song by Hole.
This episode was previously titled "Watch Yourself".
Paegan: Look what happened to the crocodile hunter, yeah?Referring to Steve Irwin, also known as the crocodile hunter, who died when he was attacked by a sting ray.
"Watch Yourself" is a song by B.B. King.
In the States on The-N, this episode aired on April 27, 2007.
Featured song: "The Breakdown" by Alexz Johnson.