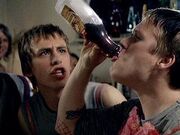 "
Changes
" is the third episode of the fourth of 
Instant Star
. It premiered on Canada on June 22, 2008, and in US on June 4, 2008.
Jude attempts to repair her friendship with Jamie. Sadie tries to figure out a way to ask Jude if Kwest can move in. Meanwhile, a dare causes Jude and Sadie's house party to take a serious turn.
Guest Star
Edit
Jude:
This is the last episode with Jude's dad, Stuart Harrison. It's also the only episode of Season 4 he appears in.
When Jamie tells Jude to "just let go" she is at first reluctant, but eventually follows his command, symbolizing her letting go of him and their friendship ending.
"Changes" is a song by David Bowie.
In the States on The N, this episode aired on June 4, 2008.
Featured song: Remind Yourself by Tyler Kyte.