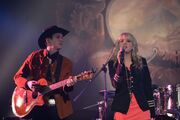 "
Date With The Night
" is the thirteenth episode and the season finale of the
second season
 of 
Instant Star
. It premiered on Canada on June 24, 2007, and in US on May 12, 2006.
Jude's life seems too good to be true, with a fabulous record release party in the works and a romance with Tommy a strong possibility, but then something truly terrible happens.
Guest Star
Edit
Jude:  (voiceover) Every question we have in life can be answered by Joey Ramone lyrics. Joey wrote, "Touring, touring's never boring," "Let's go, let's go." But he also wrote: "Do you love me back? What do you say, do you love me back?" Only one person can answer that question for me. Tom Quincy, do you love me back?
"Date With The Night" is a song by the Yeah Yeah Yeahs
In the States on The-N, this episode aired on May 12, 2006.
Alexz Johnson's featured song: "There's Us" and "Another Thin Line."
Production of season 2 finished on December 6, 2005.
Ad blocker interference detected!
Wikia is a free-to-use site that makes money from advertising. We have a modified experience for viewers using ad blockers

Wikia is not accessible if you've made further modifications. Remove the custom ad blocker rule(s) and the page will load as expected.