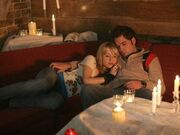 "
Hallelujah
" is the ninth episode of the 
second season
 of 
Instant Star
. It premiered on Canada on May 27, 2007, and in US on April 14, 2006.
Jude is determined to have a normal, non-famous, non-G-Major-drama seventeenth birthday with her friends and family – minus her former friend and producer. But fate has other plans, and Jude finds herself locked in a most unusual setting with Tommy. Will they tear each other apart – or make beautiful music together?
Guest Star
Edit
Jude: 
Jude asks everyone not to sing "Happy Birthday".
Jude: So I pushed you into the hot tub for telling the truth? Sighs What else can I be? All apologies.This is a line from the Nirvana song "All Apologies".
Jamie: You're at dinner with her family, Stifler...When Jamie makes this comment to Spiederman, he is referring to the character of Stifler from the American Pie movies
"Hallelujah" is a song by Leonard Cohen.
This episode features Jude's 17th birthday.
In the States on The-N, this episode aired on April 14, 2006.
Alexz Johnson's featured song: "Liar Liar."
Ad blocker interference detected!
Wikia is a free-to-use site that makes money from advertising. We have a modified experience for viewers using ad blockers

Wikia is not accessible if you've made further modifications. Remove the custom ad blocker rule(s) and the page will load as expected.