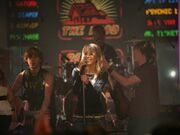 "
Heart of Gold
" is the sixh episode of the 
Third Season
  of 
Instant Star
. It premiered on Canada on July 29, 2007, and in US on March 16, 2007.
Jude is planning a major event dedicated to Patsy, who would be turning 23 if it hadn't been for her untimely death. She really needs Sadie to help, but when Jude dumps a little to much responsibility on her, Sadie drops the bomb... Sadie's sick of being the help and plans on moving to New York so she can live her own life. Meanwhile, Jamie sets his sights on signing a new act on the G-Major label
Guest Star
Edit
Jude:  (voiceover) One of the weird things about not being able to save a friend is discovering how many other people still need your help. Still, no amount of charity work is going to erase that huge guilt pit in my stomach.
This is the episode that Paegan Smith is first introduced.I
"Heart Of Gold" is a song by Neil Young.
In the States on The-N, this episode aired on March 16, 2007.
Featured song: "Just the Beginning" by Damhnait Doyle.
.
Ad blocker interference detected!
Wikia is a free-to-use site that makes money from advertising. We have a modified experience for viewers using ad blockers

Wikia is not accessible if you've made further modifications. Remove the custom ad blocker rule(s) and the page will load as expected.