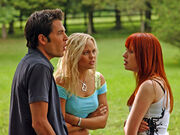 "
Hey Sister
" is the fourth episode of the firts season of 
Instant Star
. It premiered on Canada on February 6, 2005, and in US on July 15, 2005.
When Jude plays her new song for the radio and gets some very bad reactions, Tommy threatens to quit. Jude doesn't want that to happen, so she insists that they work on a new hit single alone at her parent's country house.  Tommy  reluctantly agrees, and so Jude and Tommy find themselves connecting over more than just the music. Things are going well, until Jude's hot older sister Sadie  shows up and starts flirting with Tommy, leading to a disastrous fight over Tommy.
Guest Star
Edit
Claudia Besso as Ivette
Doug Hadders as Happy Radio Programmer
Billy Houston as Cool Radio Programmer
Malcolm as Budy Radio Programmer
Turn Off The Stars as Themselves
Jude: (voice over) Georgia says even stars have to do this, demo their songs for radio programmers. Kinda like an amateur night competition with insanely high stakes. Sounds funny coming from the winner of a talent search but I hate competing. And that's what I hate most about competing, the part where you lose.
The-N's Tagline: Jamie is about to erupt. Sadie and Jude are about to explode over Tommy. And Jude's dad's cover has just been blown.
In the States on The-N, this episode aired on July 15, 2005.
Alexz Johnson's featured song: "It Could Be You."
"Hey Sister" is a song by D.O.A
Ad blocker interference detected!
Wikia is a free-to-use site that makes money from advertising. We have a modified experience for viewers using ad blockers

Wikia is not accessible if you've made further modifications. Remove the custom ad blocker rule(s) and the page will load as expected.