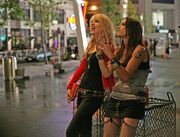 "
I Fought The Law
" is the second episode of the 
second season
 of 
Instant Star
. It premiered on Canada on JAugust 1, 2006, and in US on February 24, 2006.
An interview with a radio shock jock leaves Jude feeling humiliated and down on herself. Unsupported by SME, Jude loses her "voice". Meeting free-spirited Patsy gives Jude a boost but at the same time gets her into some trouble.
Guest Star
Edit
Jude: (voiceover) In the last 48 hours, I nearly lost my record contract, actually lost my boyfriend. Still, they say what doesn't kill you, makes you stronger, so I guess I should be worrying. Too bad I can barely squeak.
The legal drinking age in Ontario is 19 but Kat got fake IDs for Jude and her saying that there were 21. Only in the States is the drinking age 21.
Kat: 212 is back in the 416! Kat was in New York City where the area code is 212 and now she is back in Toronto, Ontario where the area code is 416.
"I Fought The Law" is a song by The Clash and Green Day.
This episode was suppose to air on April 12, 2006 but was pushed back due to scheduling conflicts.
In the States on The-N, this episode aired on February 24, 2006.
Alexz Johnson's featured song: "Over-Rated."
Ad blocker interference detected!
Wikia is a free-to-use site that makes money from advertising. We have a modified experience for viewers using ad blockers

Wikia is not accessible if you've made further modifications. Remove the custom ad blocker rule(s) and the page will load as expected.