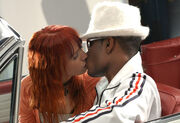 "
Kiss Me Deadly
" s the sixth episode of the first season of 
Instant Star
. It premiered on Canada on February 20, 2005, and in US on July 29, 2005.
Jude's great at a lot of things, but dancing ain't one of them…which is unfortunate since that's the general theme of her first video -- the one that's going to showcase her hot hot duet with Shay. Too bad the one thing that's not quite hot hot enough for Jude is her relationship with her co- star. Still, she's floored when he breaks up with her…the day before their scheduled on-screen kiss. How's a girl to make nice onscreen with the boy that just broke her heart off camera?
Guest Star
Edit
Matthew Brown as Shay
Claudia Besso as Ivette
Christopher Lee Clements as Troy
Rob Tincler as Director
Jude: I can't believe the lengths I'd go to satisfy my label. They want me to dance on my very first video. And this with my very first boyfriend. Well he is my boyfriend, kinda, I think. I'm starting to get it though, dating is a lot like dancing. Problem is, I have no idea who is leading. If dating is like dancing, I need help.
"Kiss Me Dearly" is a song by Billy Idol and by Generation X
The-N's Tagline: Jude and Shay break-up over mash-up. Jamie and Kat: what was the kiss about? Flame-out leads to wash-out.
In the States on The-N, this episode aired on July 29, 2005.
Alexz Johnson's featured song: "Waste My Time."
Ad blocker interference detected!
Wikia is a free-to-use site that makes money from advertising. We have a modified experience for viewers using ad blockers

Wikia is not accessible if you've made further modifications. Remove the custom ad blocker rule(s) and the page will load as expected.