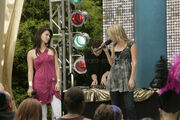 "
Like A Virgin
" is the second episode of the 
Third Season
 of 
Instant Star
. It premiered on Canada on July 8, 2007, and in US on February 16, 2007.
In an interview, Karma says she's a virgin, and they automatically assume that Jude isn't. Jude and Karma begin to not get along, and Jude ends up flashing her boob to an entire 13th brithday party while performing.
Guest Star
Edit
Jude: Kurt Cobain once said that punk rock is freedom and the worst crime is faking it. Which is why I posted some not so perfect pictures on my website, so my fans could see the real me. I think it's time I channeled my inner Sid Vicious. Hello Jude, rock goddess.
In the part of the episode where Patsy pushes Karma into the cake, they show a close up on Jude's chest and you see Karma's hand pulling Jude's shirt off.
"Like a Virgin" is a song by Madonna.
It aired on February 16, 2007 on The-N as a one hour episode with "Lose Yourself."
In the States on The-N, this episode aired on February 16, 2007.
Featured song: "I Will Be the Flame" by Cory Lee.