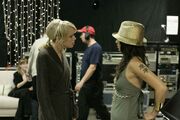 "
Lose Yourself
" is the season premiere and the first episode of the 
Third Season
 of 
Instant Star
. It premiered on Canada on June 26, 2007, and in US on February 16, 2007.
JudeJude's life is changing...for the best. Her CD is skyrocketing, and she's become a real star. That is, until the new Instant Star Karma comes in and changes everything...for the worst.
Guest Star
Edit
Miku Graham as Portia Quincy
Zoie Palmer as Patsy Sewer
Frank Chiesurin as Drake McShane
Jordan L'Abbe as Emo-Boy
Michael Carabine as Punk
Jeff Moulton as Sinatra Snapper
Jude: Playing guest-star on the show that made you is a real mixture of pride and nerves. Pride, because you're the original; nerves, because you have to listen to a bunch of strangers re-interpret your music. From emo, to punk, to Sinatra? Still, it's kind of moving to see how my music's inspired others. Inspired them to want to be me--(sees Karma performing) maybe even to replace me? There are those nerves again. The ones that never really go away.
In this episode we learn that Spiederman can play the piano. He is playing the piano as back up for Jude's performance of "I Don't Know If I Should Stay" in this episode.
This is the first season that the featured song are not all sung by Alexz Johnson.
"Lose Yourself" is a song by Shelly Poole and Eminem.
It aired on February 16, 2007 on The-N as a one hour episode with "Like A Virgin."
In the States on The-N, this episode will air on Februrary 16, 2007.
Featured songs: "I Don't Know If I Should Stay" by Alexz Johnson and "Waste My Time" by Cory Lee.
Ad blocker interference detected!
Wikia is a free-to-use site that makes money from advertising. We have a modified experience for viewers using ad blockers

Wikia is not accessible if you've made further modifications. Remove the custom ad blocker rule(s) and the page will load as expected.