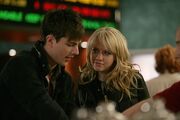 "
Mother's Little Helper
" is the eleventh episode of the second season of 
Instant Star
. It premiered on Canada on June 10, 2007, and in US on April 28, 2006.
Sadie is unhappy about Jude and Tommy working so closely together, and both of the Harrison sisters are upset with their mom's surprise decision to sell their childhood home. Jude realizes some of her money is missing and wonders if it could have been stolen.
Guest Star
Edit
Jude: (voiceover) When I was a kid, my sister Sadie loved to dress up. Then, she'd hide in some weird place in our house, then Sadie would wait and pop out when I least expected it. And I hated it just as much back then, cause when you're not expecting something, it feels twenty times more awful – even with your sister there
"Mother's Little Helper" is a song by The Rolling Stones.
In the States on The N, this episode aired on April 28, 2006.
Alexz Johnson's featured song: "How Strong Do You Think I Am."
Ad blocker interference detected!
Wikia is a free-to-use site that makes money from advertising. We have a modified experience for viewers using ad blockers

Wikia is not accessible if you've made further modifications. Remove the custom ad blocker rule(s) and the page will load as expected.