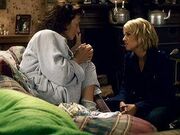 "
My Hometown
" is the sixth episode of the fourth season of 
Instant Star
. It premiered on Canada on July 13, 2008, and in US on June 11, 2008.
Weeks have passed since Tommy left for New Brunswick. Communication has been sporadic and frustrating. What's a lovestruck girl to do...but surprise her guy by arriving unannounced on his doorstep.
Guest Star
Edit
Jude: 
Jude missed Spiederman's birthday because she was out of town visiting Tommy.
The version of "Here We Go Again" in this episode is a duet by Jude and Tommy.
In this episode, Spiederman's nineteenth birthday is celebrated.
Although it appears that Tim Rozon is singing Tommy's part in "Here We Go Again," the vocals really belong to Luke McMaster.
"My Hometown" is a song by Bruce Springsteen
In the States on The N, this episode aired on June 11, 2008.
Featured song: Here We Go Again by Alexz Johnson.
Ad blocker interference detected!
Wikia is a free-to-use site that makes money from advertising. We have a modified experience for viewers using ad blockers

Wikia is not accessible if you've made further modifications. Remove the custom ad blocker rule(s) and the page will load as expected.