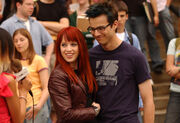 "
Oh Well, Whatever, Nevermind
" is a Nirvana song lyric.
Jude's publicist arranges for her to perform her first single in front of the entire school. Jude is very excited, and lets herself get caught up in all the attention. But she must face two obstacles: some of her classmates are planning an anti-Jude walkout and her best friend Jamie hates her song. Will she be able to pull this concert off?
Guest Star
Edit
Claudia Besso as Ivette
Sean Baek as Journalist
Courtenay Betts as Mean Girl
John Boylan as Principal
Tanya Kim as Herself
Jude: Jude: Creating a new song isn't that different then going to school. You have to put in hours of hard work and put yourself at the mercy of your teachers…And all you really want to know is if you passed the test.
Jamie's hair is blue and green at one point. Later during the day, its not and then again it is.
In the States on The-N, this episode aired on July 8, 2005.
Alexz Johnson's featured song: "I'm In Love With My Guitar."
e-Talk Daily.This is a real show on CTV that is an entertainment show like ET. Tanya Kim, who guest stars, is the co-host of this show.
"Oh Well, Whatever, Nevermind" is a lyric from the song "Smells Like Teen Spirit" by Nirvana.