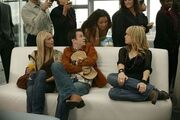 "
Personality Crisis
" is the eigth episode of the 
second season
 of 
Instant Star
. It premiered on Canada on August 29, 2006, and in US on April 7, 2006.
Jude is thrilled to be nominated for a music award, but what she finds less exciting is the prospect of attending the ceremonies with Spiederman, who hasn't been the ideal boyfriend lately. So it's understandable when Jude agrees to let Mason escort her to the event.
Guest Star
Edit
Jude: 
Originally, this episode was called "A Hard Rain's Gonna Fall," and then was called "Fool in the Rain."
Personality Crisis" is a song by New York Dolls.
It's revealed that Mason Fox is gay.
Aubrey Graham (Jimmy) and Stacy Farber (Ellie) from Degrassi guest star as themselves.
In the States on The-N, this episode aired on April 7, 2006. It aired as a one hour special with "Stranger in the House."
Alexz Johnson's featured song: "Who Am I Fooling."