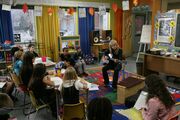 "
Problem Child
" is the tenth episode of the 
second season
 of 
Instant Star
. It premiered on Canada on June 3, 2007, and in US on April 21, 2006.
Jude's never been a stellar student, but when she fails music, she's stunned. Sent to visit an elementary school to do emergency publicity damage, Jude faces down her biggest fans. But when she gives one budding songwriter some questionable advice, Jude can't help but wonder…is it possible to be both a terrible student and an awful teacher?
Guest Star
Edit
Jude:  (voiceover) The good thing about school is it's way easier than real life . . . The good thing about real life, is that there are no midterm exams
Jordan Todosey, the actress who plays Helen, went on to star on 'Degrassi' as Adam Torres.
The school set used in this episode, is the same set used in Degrassi: The Next Generation.
Goof: The song "How I Feel" was performed with a guitar instead of the piano which was used in the original recording which is featured on the Instant Star 2 CD.
Problem Child" is a song by AC/DC.
In the States on The-N, this episode aired on April 21, 2006.
Alexz Johnson's featured song: "How I Feel."
Ad blocker interference detected!
Wikia is a free-to-use site that makes money from advertising. We have a modified experience for viewers using ad blockers

Wikia is not accessible if you've made further modifications. Remove the custom ad blocker rule(s) and the page will load as expected.