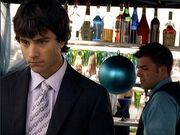 "
She Drives Me Crazy
" is the second episode of the fourth of 
Instant Star
. It premiered on Canada on June 15, 2008, and in US on June 3, 2008.
With the reality TV cameras rolling, Karma's desire for fame grows as Karma and Spiederman's wedding approachs
Guest Star
Edit
Clé Bennett as Thurman
Ian Blackwood as Kyle Robbins
Christopher Gaudet as Wally Bateman
 Howard Hoover as Spiederman's Father
David Petrie as Karma's Father
Mung-Ling Tsui as Karma's Mother
Jude:
This is the first time we see Karma's parents, and we learn that she has two younger sisters.
Speed reveals that his full name is Vincent Augusto Spiederman.
We figure out that Karma's real name is Jennifer Margaret Williamson.
This is the first time we see Spiederman's dad.
In Karma and Spiederman's wedding, Jude serves as Spiederman's best man while Sadie is Karma's maid of honor.
"She Drives Me Crazy" is a song by Fine Young Cannibals.
In the States on The-N, this episode aired on June 3, 2008.
Featured song: "Deeper" by Alexz Johnson.
Ad blocker interference detected!
Wikia is a free-to-use site that makes money from advertising. We have a modified experience for viewers using ad blockers

Wikia is not accessible if you've made further modifications. Remove the custom ad blocker rule(s) and the page will load as expected.