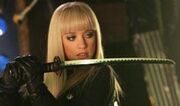 "
She Walks on Me
" is the eleventh episode of the 
fourth season of
Instant Star
. It premiered on Canada on August 17, 2008, and in US on June 24, 2008.
Jude's latest album has come and gone from the charts in a flash. Bummed but not beaten, Jude's determined to remix the album and re-release all the songs as they should have been done.
Guest Star
Edit
Jude: 
"She Walks On Me" is a song by Hole and Courtney Love.
IThe-N has "That was Us" listed as the song from this episode.
In the States on The N, this episode aired on June 24, 2008.
The version of Ultraviolet in this episode is different than the one in episode 401. The executive producer calls this version "unexpected"
Featured song : Ultraviolet by Alexz Johnson.