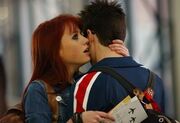 "
Should I Stay Or Should I Go?
"
is the thirteenth episode  and the season finale of the first season
first season
of 
Instant Star
. It premiered on Canada on April 24, 2005, and in US on September 23, 2005.
It has been a long, adventurous ride for  Jude Harrison, the first winner of the Instant Star contest. As she prepares for her summer tour, as usual, she has many problems to face. What is she supposed to do when she learns her producer is dating her sister, receives a very shocking offer from her ex-boyfriend, and a romantic ultimatum from her best friend? Is she ready to handle all of this before going on her summer tour?
Guest Star
Edit
Jude: (voiceover) The last six months have been the strangest, and best in my life – I got a chance to live a dream. I fell in love – twice, then got my heart broken – twice. And then I learned that parents aren't perfect, that sisters can be your enemy and your friend, and that some friends can be your whole world. With people this great in your life you hold on tight and pray they'll never leave you. But sometimes, you're the one that has to leave them. They say life is a journey and if it is, the real question isn't 'where are you going', it's 'who's coming with you'.
This episode has the same name as the episode 307 from "Degrassi: The Next Generation". It is produced by the same people.
"Should I Stay Or Should I Go" is a song by The Clash.
In the States on The-N, this episode aired on September 23, 2005.
Jude has to decide between going with heart throb Shay or go on small tour around Canada.
Alexz Johnson's featured song: "Temporary Insanity."
Season 1 Finale
Ad blocker interference detected!
Wikia is a free-to-use site that makes money from advertising. We have a modified experience for viewers using ad blockers

Wikia is not accessible if you've made further modifications. Remove the custom ad blocker rule(s) and the page will load as expected.