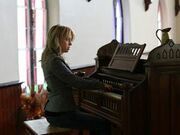 "
The Long & Winding Road
" is the sevent episode of the 
Third Season
  of 
Instant Star
. It premiered on Canada on August 1, 2007, and in US on March 23, 2007.
Jude and Tommy want to produce a hit record so they hit the road to find unique recording locations. As much as Tommy tries to hide it, his past comes bubbling up along with his feelings for Jude.
Guest Star
Edit
Jude:  One could argue that the best songs of the twentieth century were written about love, which is funny, because when romance and music pair up, it normally leads to disaster. Though sometimes romantic sparks can lead to truly inspired music creativity. The trick is to keep those sparks from turning into a wild fire that destroys everything in its wake.
While in the church Tommy does the Sign of the Cross, which means he is Catholic.
The bracelet in Tommy's hand says "Angie".
"The Long And Winding Road" is a song by The Beatles.
.
In the States on The-N, this episode aired on March 23, 2007.
Featured song: "Don't You Dare" by Alexz Johnson.
.
Ad blocker interference detected!
Wikia is a free-to-use site that makes money from advertising. We have a modified experience for viewers using ad blockers

Wikia is not accessible if you've made further modifications. Remove the custom ad blocker rule(s) and the page will load as expected.