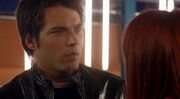 "
Train In Vain
" is the twelfth episode of the  first season 
first season
 of Instant Star. It premiered on Canada on April 17, 2005, and in US on September 16, 2005.
JThe last days of recording an album are like the last days of summer camp. Everyone's high on a dangerous cocktail of loopyness and exhaustion. The counselors are restless, everyone's sick of the food, more than a little smelly, and generally way past ready to get on the bus for home. And then you realize leaving camp means saying goodbye and some people you can't imagine saying goodbye to... ever.
Guest Star
Edit
Jude: Picking a backup band to tour with is kinda like shopping for a new best friend. You should share the same kind of groove. You should look just a little bit cooler when you're around them. And you should always want them close. But not that close! Basically what you want in a band is what you want in your best friend: fun, dependability, no surprises. Didn't I just say something about enough surprises?
"Train In Vain" is a song by The Clash.
The-N's Tagline: Jude's album wraps up. Tommy's pulling away. Jude will do anything to make him stay.
In the States on The-N, this episode aired on September 16, 2005.
Alexz Johnson's featured song: "That Girl."
Ad blocker interference detected!
Wikia is a free-to-use site that makes money from advertising. We have a modified experience for viewers using ad blockers

Wikia is not accessible if you've made further modifications. Remove the custom ad blocker rule(s) and the page will load as expected.