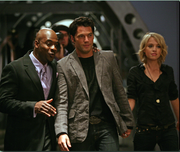 "
We Belong
" is the fifth episode of the fourth season of 
Instant Star
. It premiered on Canada on July 6, 2008, and in US on June 10, 2008.
When Tommy is called out of town, Jude wonders why he's being so mysterious. Is their relationship on the rocks?.
Guest Star
Edit
Jude: (voiceover) Like Romeo and Juliet, every couple has to grapple with the same question: When do you make your love public? And how?
The song that the character Blu sings is called "Pavement", which is an actual song by Cassie Steele, the girl who plays her.
In this episode we learn that Tommy has a brother named Tristan.
This is the first episode we hear Paegan sing. The song he sings is about all of his ex-wives called "My Superstar World"
In the background of this episode you can hear the song "I'm Gone" by Mason, the winner of Instant Star season two.
Tommy: Darius wants us to arrive together and make a show of our...Jommyness.
When Tommy says "Jommyness" it is referring to the nickname Instant Star fans have given the fictional couple by combining Tommy and Jude's names.
In this episode, Jude is seen singing the song "Skin" from season one.
Although this is the fourth season of Instant Star, this is the first time they've over shown auditions for the competition. In previous years they've only showed the finals.
"We Belong" is a song by Pat Benatar .
In the States on The N, this episode aired on June 10, 2008.
Featured song: I Still Love You by Alexz Johnson.