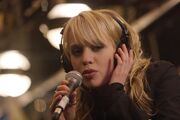 "
When I Come Around
" is the twelfth episode of the second season of 
Instant Star
. It premiered on Canada on June 17, 2007, and in US on May 5, 2006.
Jude's second album is officially finished; however, Darius isn't pleased with the results, which means that Jude and Tommy are back in the studio, where they end up rekindling their relationship. Meanwhile, Spiederman realizes something isn't right with him and Jude.
Guest Star
Edit
Jude: 
In the States on The-N, this episode aired on May 5, 2006.
Alexz Johnson's featured song: "White Lines."
External links
Edit
Ad blocker interference detected!
Wikia is a free-to-use site that makes money from advertising. We have a modified experience for viewers using ad blockers

Wikia is not accessible if you've made further modifications. Remove the custom ad blocker rule(s) and the page will load as expected.